Portrait of John Flight, 1790. Courtesy of Museum of Royal Worcester
The Worcester porcelain manufactory was established in 1751 through a partnership between fifteen individuals, most notably the physician Dr John Wall (1708 - 1776) and apothecary William Davis (d. 1783). From Worcester, their operations were based out of Warmstry House along the banks of the Severn River.

After a successful career producing fine porcelain, Dr Wall retired in 1774 and the manufactory continued operations under the direction of his business partner William Davis. By this time, Worcester competed in a market saturated with porcelain produced by other domestic manufactories, as well as continental and oriental porcelain imports. Increasingly, quality suffered in an effort to lower prices which left the manufactory in a precarious situation.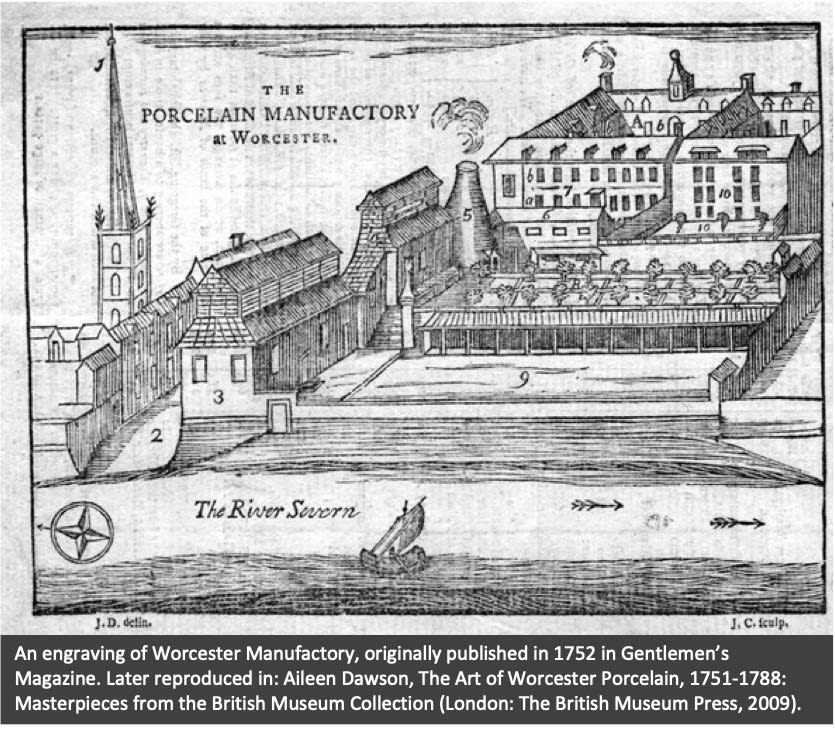 In 1783, William Davis died and the Worcester Porcelain Company was bought by his London agent Thomas Flight (1726-1800) for £3,000. While Flight may have thought this was a sound investment for his sons John and Joseph, he found the manufactory struggling, where dirty kilns produced yellowed porcelain and output was dominated by poorer quality printed porcelain. For years, skilled craftsmen had moved on or been poached by competitors such as Chamberlains while the exact composition of the porcelain body was withheld from the Flights. In an effort to reduce costs, the Flights considered moving the manufactory to Wales where resources were cheaper but a fateful visit reversed Worcester's fortunes. In his diary entry dated the 14 September 1788, John Flight writes:

Wednesday July 31st I sett off for Worcester with the design to assist my [Brother] in mooving, make some little stay at Worcr. and then go to Swansea to make enquiry wether there was any probability it would answer to remove our Manufactory there.... The Saturday after, the King, Queen, Duke of York, 3 Princesses and attendants came thro' in their way to Hartlebury on a visit to the Bishop. ... The King being of a Curious Mechanical Turn and fond of seeing manufactories of all sorts we hoped he might visit Ours but it was a matter of so much uncertainty that I did not like to mention my hopes for fear of a disappointment.
A depiction of King George III and Queen Charlotte in a stained glass window in the cloisters of Worcester Cathedral © The Dean and Chapter of Worcester Cathedral
With anticipation mounting, it seems the whole of Worcester prepared for the arrival of King George III (1738-1820) and his wife Queen Charlotte (1761-1818). That year, the Three Choirs Festival was moved ahead to coincide with their royal visit. Upon their arrival to Worcester Cathedral, they were greeted with the first anthem of George Frideric Handel's Zadok the Priest.
George Frideric Handel (1685-1759),

Zadok the Priest.

Performance by Worcester Cathedral Chamber Choir directed by Stephen Shellard
In the afternoon the next day, the royal party did not disappoint. As John Flight recounts:

... the Sovereign and his family honou'd us with a visit, totally unexpectedly and came in without any form as a common person wou'd... They behaved exceedingly familiar and affable, ordered a good deal of china. I took the liberty to ask the Queen to honor us with a visit at the Manufactory, which she condescended after mentioned it to the King to accept and fixed Saturday morning.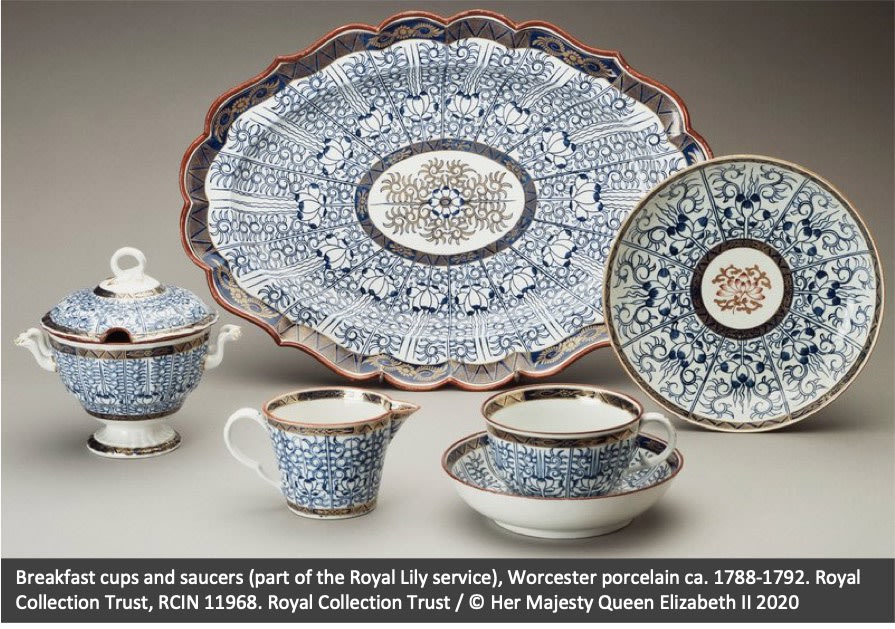 Following the order of the Royal Lily service, the King and Queen inspected the manufactory with satisfaction and advised the Flights to once again establish a retail location in London. Encouraged by their royal patronage, as well as receiving a Royal Warrant in 1789, John Flight set up a retail shop in London. He first sold silver and French Angoulême porcelain alongside his low stock of Worcester. This both satisfied the taste for French luxury while also introducing the French style to Worcester craftsmen who continued to struggle making satisfactory porcelain.

Between 1789-1790, the Flights made vast improvements to the production line, starting with firing the porcelain in saggers to protect against kiln pollutants. In subsequent years, skilled decorators and burnishers were hired as the manufactory expanded its output with aristocratic orders. Finally, the secret recipe for Worcester porcelain was secured through experimentation and by acquiring the papers of the manufactory's foreman Shaw. With the manufactory in a secure position, John's untimely death in 1791 once again put the manufactory's future at risk.
Through John's efforts, the Worcester Manufactory was in a much more stable condition, however, its operation was more than Joseph could manage alone. Through a fortuitous set of circumstances, family friend Martin Barr (c.1757–1813) joined the firm as a partner, paying his share of the business through earnings made after a street quarrel with a soldier. In this way, Martin Barr secured not only his own future but that of his sons, ushering a new period of Flight and Barr Worcester, known for its quality, inventive patterns, and brilliant colours to rival French porcelain, as seen in the finely painted and richly coloured Flight and Barr Worcester Triple Spill Vase illustrated above.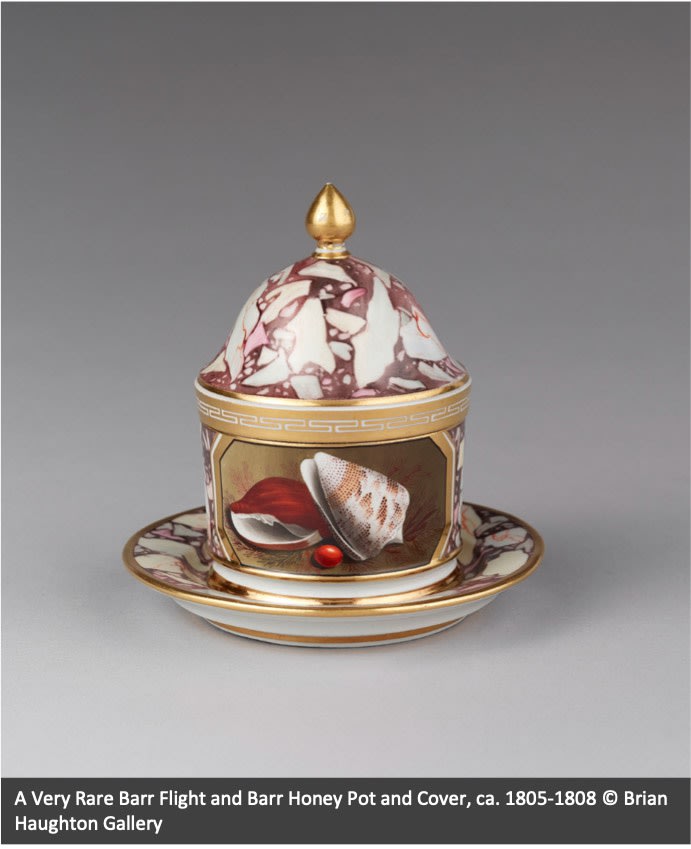 In a letter written by James Knight of Worcester to Richard William Binns (1819-1900), who was director of the Worcester Royal Porcelain Factory between 1862-1897, Knight describes how Martin Barr acquired the funds to invest in the porcelain company:
He was putting up the shutters of his not pretentious - rather humble - shop one evening after dark, when a drunken dragoon officer picked a quarrel with him. From words they came to blows, and the soldier cut Barr severely over the head with his sword. The publication of the business would have led perhaps to his being cashiered - certainly to very unpleasant circumstances; so he hastened on becoming sober and conscious of the gravity of the mischief he had done to make pecuniary compensation and stop Barr's mouth.

A large sum - for those days - was handed over, and with this money, thus acquired, in satisfaction for his cut head. Barr became a partner in the china works.
In 1804, Barr's son Martin Barr Jr (d. 1848) was sworn as a Citizen and Freemason of the City of Worcester, where he then joined his father's company. The now renamed Barr, Flight and Barr entity reflected this new partnership.
Worcester's output during this period embraced fantastic forms, reflecting the neo-classical taste where pastoral scenes and burnished gilt decoration was executed on Grecian forms enhanced by naturalistic marbling as seen here in the Extremely Rare Barr Flight and Barr Twin Handled Vase.
The manufactory also employed skilled individuals such as William Billingsley (1758–1828), though his time at the manufactory was not without its challenges.

Billingsley was an undeniably talented painter who specialised in flowers, as seen in the Exceptionally Fine and Rare Pair of Worcester Barr, Flight and Barr Candlesticks below. Beginning in 1808, Billingsley worked at Worcester where he not only painted but also introduced an improved muffle kiln for enamelling while experimenting with the clay composition to create a refined porcelain. While he was contracted to keep his work secret and proprietary, in 1813 he left Worcester to establish his own manufactory at Nantgarw. Though this departure was felt to be a serious betrayal, had Billingsley stayed at Worcester, his experimental porcelain may have ruined the company as its output was problematic and ultimately led to the closure of Nantgarw.
Not long after Billingsley's departure, another change to the manufactory transpired with the death of Martin Barr Sr on 10th November 1813.
With his passing, the manufactory's name changed once again to Flight, Barr and Barr with the added partnership of his son George Barr (d. 1848). The following year, the great painter Thomas Baxter (1782-1821) joined the company and we see the flourishing of new talent and ability at the manufactory.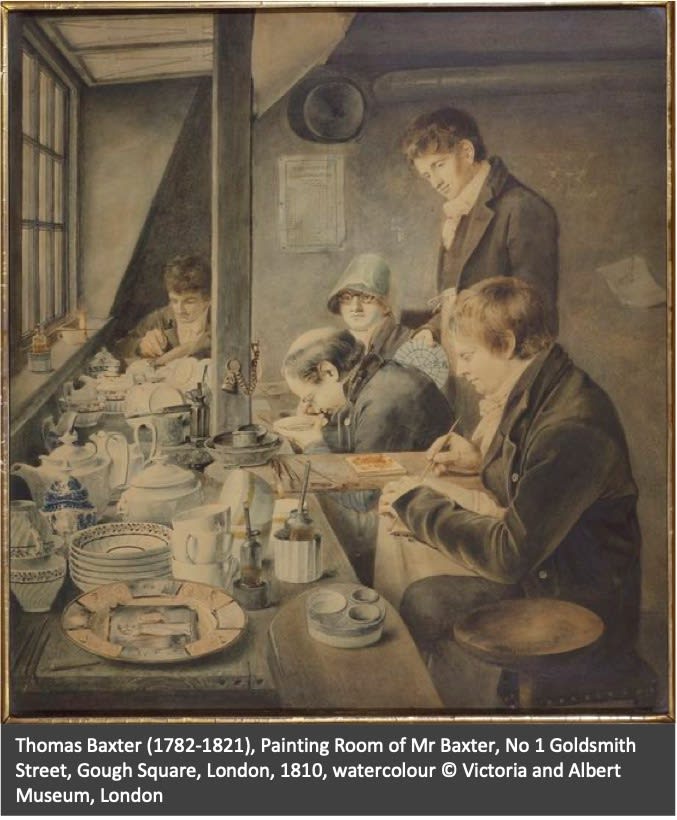 Born in Worcester, Baxter's career as an artist started in London where he studied at the Royal Academy and became familiar with porcelain painting through his father who operated his own decorating workshop. While he is perhaps most notably recognised for his speciality in painting shells, he excelled in figures. During this time, artists and the manufactory were captivated by historical figures who were celebrated on porcelain form. Shakespearean scenes and poetic figures such as The Bard in Thomas Gray's poem were admirable subjects whose romantic qualities were finely depicted by Baxter.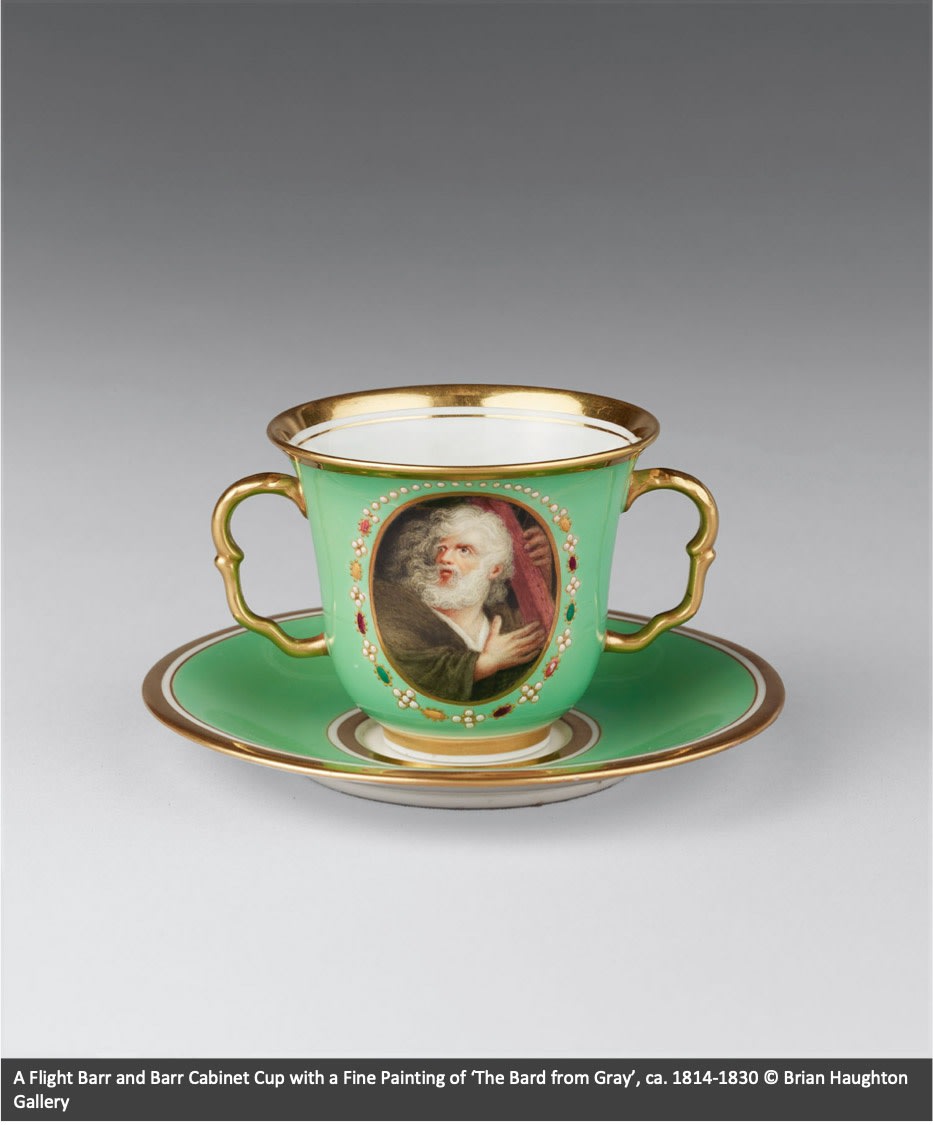 Excerpt from The Bard. A Pindaric Ode (1757) by Thomas Gray (1716-1771)

On a rock, whose haughty brow
Frowns o'er old Conway's foaming flood,
Rob'd in the sable garb of woe,
With haggard eyes the poet stood;
(Loose his beard, and hoary hair
Stream'd, like a meteor, to the troubled air)
And with a master's hand, and prophet's fire,
Struck the deep sorrows of his lyre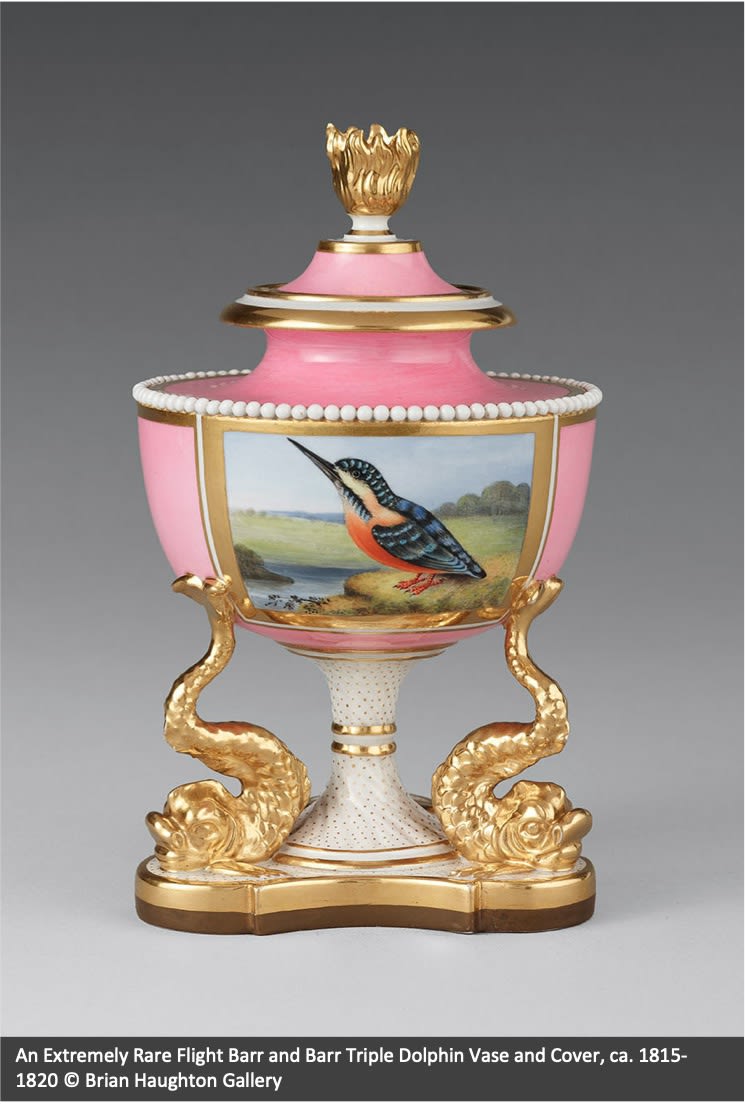 Having established a decorating school in Worcester, Baxter trained a number of students who went on to excel in their own specialities. In a letter by Solomon Cole, who was another painter at Flight, Barr and Barr, he names a number of skilled porcelain painters: John Pennington known for his rustic figures; Samuel Astles, Henry Stinton, and Thomas Crowther painted flowers; Thomas Rogers, John Barker and John Smith painted landscapes, where Barker excelled in painting shells; William Doe painted natural birds, feathers, insects; Charles Stinton painted Fancy Birds, where George Davis was noteworthy for the brilliant plumage of his birds.
While it is tempting to ascribe these painters to their subjects, it is difficult to identify exact painters without a signature. What is clear is the astonishing quality and scale of Flight, Barr and Barr porcelain during this peak period of production. Monumental examples such as the Extremely Important Massive Flight, Barr and Barr Worcester Hunting Vase and Cover embody the great ambition of a company who triumphed over multiple setbacks.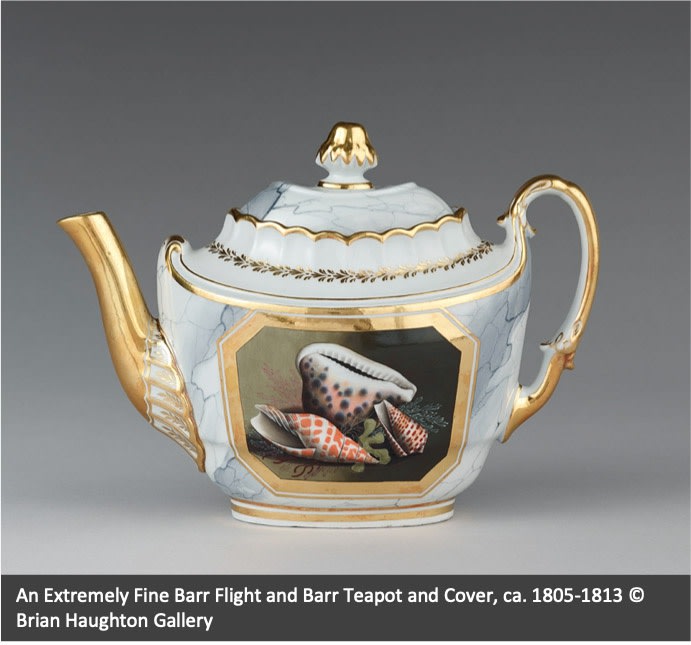 In the first half of the nineteenth century, the Worcester Porcelain Company changed hands on multiple occasions. After Joseph Flight's death in 1738, the remaining Barr brothers merged the company with their competitor Chamberlains. While styles would continue to change and affect porcelain production, the Flight and Barr Worcester period is known for its exceptional detail and inspired decoration, which continues to capture our imagination today.
2020 has brought unexpected challenges, but we hope you, like Flight and Barr Worcester, have triumphed over tribulation in anticipation for what 2021 will bring. We wish you a safe and healthy holiday whilst finding beauty in all things merry and bright!
For further reading, see Henry Sandon, Flight and Barr Worcester Porcelain: 1783-1840 (1992) or visit: www.haughton.com/articles where you can find archived essays on Flight and Barr Worcester by Leslie Greene Bowman and John Sandon or visit us in the gallery.

We thank Lord Flight, of Worcester for kindly providing a copy of John Flight's diary in our research for this Ceramic Musing.